Art square chalk pastels making machine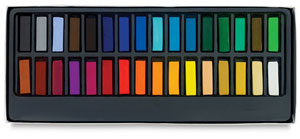 These square chalk pastels are a great value for the classroom or for fine artists.
With a velvety smooth, dry texture and brilliant, concentrated pigmentation,
this softer-style medium is available in various color assortments to suit every need.
The soft, user-friendly formula blends easily and allows superior color control.
Use to create aged effects on paper.
The chalk pastel sticks are acid free and measure 3/8" × 2-1/2" (10 mm × 64 mm).
China dlc is professional to make this type of machine